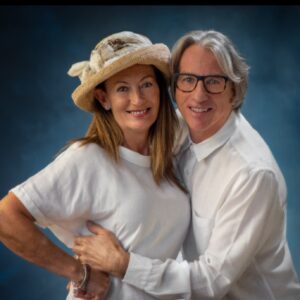 I adore the expression in a photograph as it portrays a meaning.
I love seeing the joy I bring to people when I photograph them be it for Family Portrait Photography or their successful Business Headshot. Many start up business people commission me to help build their brand with creative photography.
I enjoy creating images of Life, Love and Happiness. My Wife Wendy and I often work together as we enjoy life and have a love for people.
My easy going nature allows for your photography session to be memorable and easy. I encourage all my clients to be involved in the entire process. So it is always about YOU.

I CREATE IMAGES THAT RESULT IN POSITIVE RETURNS ON YOUR INVESTMENT FOR EVENTS OR YOUR BUSINESS
I ENJOY CREATING MEMORABLE FAMILY PHOTOS CAPTURING THE FUN, LOVE AND CONNECTEDNESS
1960's I grew up on the South Coast and spent time around the sea with mum always having the Box Brownie and snapping pics of me and my brother seaside.
My mother started my love of photography.
1969 This is where my love and excitement of Photography started thus growing into my passion and profession.
I was just a primary school kid when pleaded with mum to let me take her Box Brownie to Taronga Park on a school excursion which was fun.
At age 15 I left school in 1978 to become a fisherman with my father trapping lobsters over the Continental Shelf off Wollongong.
I would often ask mum to take pictures of me with the big lobsters we caught or the new lobster traps that I had built in the backyard.
Looking back now I am amazed how young I was starting a profession which would see me become quite successful.
In 1979 at age 16.5yrs old I became the youngest Australian to skipper fishing trawlers. I worked out of Newcastle even catching the occasional 14ft Tiger Shark.
I installed a state of the art Radar which enabled me to trawl around reefs for fish, Crabs and Balmain Bugs.
I became very successful resulting in my father purchasing another trawler which I went onto to skipper.
In the 80's I with other fisherman loved the Newcastle Nightlife which was vibrant at the time.
I was runner up in Fanny's Putting On The Hits Competition playing Kiss Front man Paul Stanley and then Buddy Holly after the plane crash.
I loved a bit of miming to bands and playing air guitar too as most of us did back then.
After the love of nightlife and photography I decided to make a change in career paths to Photography.
I photographed many International acts as Celine Dion and Dire Straits for a Newcastle Agent.
Sometimes I would Chauffer artists like James Taylor to and from venue and Airport as well.
I photographed many Newcastle Bands for their Albums, Posters, Newspapers and Promo Material.
It was an exciting time whereby I worked as a Roadie for Newcastle Bands, Nodes Levity and Coloured Jumpers to name a few.
In the late 80's I had established myself as a competent photographer and Sound Engineer of live bands.
I landed a job with Australian Comedian Rodney Rude doing his Tour Photography and also his Sound Production.
I did 3 big Tours-NT from Darin, to Nhulunbuy, to Alice Springs-WA Derby to Perth and then all of Victoria and Sydney Metropolitan.
This was a great exciting way to see Australia and laugh but work extremely hard along the way. Plus Rod always had a voice recorder on him and some of my comedy ended up on his albums.
In 1990 I completed 1 year TAFE Course in Art Photography where I gained a Distinction. This was a great creative course where I actually ended up assisting other students in the Class Darkroom as requested by Teacher Toni on many occasions.
I had my own Darkroom at home for several years so I was very experienced.
In the 90's, I held several exhibitions at the Maitland Art Gallery whereby Gallery Director Magaret Sivyer asked to keep the works in their permanent Collection.
Naturally I was thrilled. This pic is of me with my Newcastle's Music and Nightlife Exhibition.
In the 1990's I was a member of the Australian Institute of Professional Photography and I won many awards. This very creative Portrait of Newcastle Herald Journalist Ian Kirkwood saw me win a Silver Distinction Award.
I worked in Newspapers as a photographer at the Star and Maitland Mercury 1988-1990 and The Newcastle Herald 1990-1996.
At this time I covered many news and feature stories as well as sport. In 1991 and then again in 1994 I won awards for Sport Photography.
In 1991 I was awarded by the Australian Journalists Association Northern NSW Branch-Photographer of the Year.
I was very grateful for achieving this award and my colleagues were very happy for me.
In 1993 I won the prestigious NSW TAB Spring Racing Award for Photography in the Horse Racing Category while at The Newcastle Herald.
As it turned out the other Herald photographers won other categories which set our Newcastle team as leaders in the field.
We took out all photo awards bettering the efforts of the Daily Telegraph, Sydney morning Herald and other Newspapers in NSW.
With my first prize of $2,000.00 I purchased my first autofocus camera a new Nikon F4s.
In the 90's my first wife and I raised 3 delightful adventurous daughters.
They were little sweeties and it wasn't long before they started wanting to take photos of dad as kids like to do.
It was a role reversal as my mother did take a lot of photos of my brother and I when were little.
Kids are just so much fun to photograph.
In 1996 I transitioned into Wedding Photography.
Victoria Black and John Haslam contacted me to use my image of Melissa & Anthony on the cover of the 1st Annual Newcastle & Central Coast Wedding Magazine.
Many more of my images were used in the magazine to illustrate the beauty of Newcastle and the Hunter Valley.
After the great success of this 1st edition, Victoria and John then commissioned me to do another two Editions of fashion shoots for the magazine also.
1997 was a great year for Newcastle Knights Rugby League Team. Captain Paul Harragon would later release his autobiography using my AIPP Award Winning Portrait that I took of him shortly after the 1997 Grand Final. This image was taken on a Linhoff 5x4inch plate camera with a slide projection on Paul's torso of the Optus Cup and the Knight's flag.
In early 2000's Newcastle Disability Agency Life Activities (now Leapfrog Ability) commissioned me to document what makes their consumers happy in their life. I was chosen for my love of people as it's my humorous connection that inspires. The NSW Govt decided to trial a bus for the disabled here in Newcastle and chose to use my images all over the custom designed and painted Bus of the Life Activities Consumers.
In the 2000's I competed consistently in Triathlon. I became quite good and came 2nd place in NSW State Cup Olympic Distance triathlon in a time of 2hrs 15mins. Then in 2004 I came 3rd in the Capricorn Half Ironman Triathlon in a time of 4hrs and 40mins and beating my friend Pete Jacobs who 8 years later would become Kona Ironman World Champion. I completed 5 Australian Ironman Championships with my fastest time being 10hrs 30mins.
In 2000 I was the Newcastle Jets Official Photographer in the A League series. It was a great time seeing the club grow and go onto win a Premiership in in 2008.
In 2006 Jane Anderson a long-term client who had been diagnosed with Leukemia came to me for assistance for her idea to create a calendar to raise funds for Leukemia Research.
The images I created centred on the ability of these 12 people to remain positive through their challenging chemo treatments and living life fully showing their grateful attitude.
Sadly Jane passed away several years later as did a few other people. This calendar was well received and the memories of these people live on especially Jane's who initiated this great project.
In 2006 after my 5th Ironman Triathlon for a change I chose to play a Team sport-AFL. Sadly I suffered a bad head high tackle which saw me acquire a Brain Injury in which I spent the rest of the day and half the night in a Coma and then another week in hospital. The Newcastle City AFL Club helped me get back on my feet along with The Hunter Brain Injury Service Unit and Leapfrog Ability.
In 2008 98% recovered from my Brain Injury
I fulfilled a promise to do a large Triathlon fundraiser called Eddie Cross' 14 Hr Day for Disability for Leapfrog Ability and the Hunter Brain Injury Service Unit.
These two organisations assisted me when I was disabled and into my Recovery. I raised just over $70,000 with the help of friends.
In 2008 I received a Newcastle Community Volunteer Award from the Federal Government for my work in raising funds for Leapfrog Ability a disability agency and The Hunter Brain Injury Service Unit. For myself it was nice to be thanked for the work I did that benefits our local community.
It was a great honour in 2009 to win the Newcastle Business Club Award for contribution to the city. Meg McNaughton President said, "Eddie Cross lifted the hearts of many through his own recovery and has lifted the sprits of the wider community and contributed to the Commonweal of Newcastle through his efforts on behalf of others"
"Brainstorming Life's Challenges…Our Journeys" was a Fundraiser I put together inviting two friends to share their Story as part of Mental Health Week in October 2009. The Goal was to share our story with powerful images, and have people moved touched and inspired with our story's.
Belinda Zimmerli – Running with life after anorexia
Paul Anicich – Bali Bombing Survivor
Edward Cross – Overcoming Mental Illness and Brain Injury
Funds raised were donated to Brain Injured Julie Milner who is a Hunter Area Mental Health Worker and also HMRI.
In 2010 I created an emotive photo story exhibition fundraiser of Women with Cancer titled "Imagine a Life Without Illness". It featured a selection of 10 ladies with different forms of Cancer in which their image had their personal story displayed alongside it. Press coverage was huge with Tv and Radio interviews along with Newspaper's and magazines enabled $25,000 to be raised.
After the success of my photo story exhibition I was able to present Cancer Researchers at the Hunter Medical Research Institute Prof Xu Dong Zhang and Dr Chen Chen Jiang with a cheque for $25,000 to assist in further research.
From 2009 Sue McHattie CEO of Headstart (Acquired brain Injury Service) asked me to teach photography to the Clients Of Headstart. This resulted in our 1st Photo Exhibition in 2011 at Compass Housing Gallery in Hamilton. NBN News did a profile on the class and the resulting exhibition which was a huge morale boost for the 12 clients. The Newcastle Herald also printed a nice story too. It is very uplifting and motivating working with people who have a brain injury as you witness their personal and intellectual growth and recovery. Plus they take some excellent images.
Teaching Photography to the clients of Headstart (Acquired Brain Injury Service) has been a challenging, inspiring, and rewarding time over the past 12yrs. This is an ongoing project run in 8 weekly classes throughout the year. The questions that some class members ask while processing the images on our class computer cause other class participants to think hard and answer. This often results in their images being transformed to a higher creative level. It's great to let the class lead and discover and deliver their own creativity.
Fun and laughter has always been the goodness in life for me. Hence with my photography it's not all about the technical side of image creation but yeah that's very important but fun and laughter is paramount. So fun and laughter is another element of my work that I inject into my clients' images. Some clients say "Eddie you are a crack up mate…. your humour is infectious and gee that was a fun shoot." This is a successful shoot.
Whilst being long out of the fast-paced Newspaper Media Work of the 80's and 90's in 2013 and 2015 I made a return for some Political clients. I was back photographing two different Liberal Party Leaders briefly in their Political Campaigns which was an interesting time that bought many old memories flooding back.
After 20 years working from my studio at 42 Hunter St Newcastle East Wendy and I decided to close at the time Covid-19 arrived. I was the sole remaining Shopfront Studio Photographer by several years here in the Newcastle & Hunter Area. I now work from my home in Newcastle East with many portraits for Business and Families created on location in the East End area and beaches. It was only fitting to make this Self Portrait on my Blue Canvas Background the last one that was taken in the Studio too.
The new home base now gives me an even larger Studio plus the similar creative range of business headshot locations to work with for my varied client base. I have great architecture up here in the East End for Architects Headshots. And I also have the many other secret locations for my corporate and start up business clients.
Creative relaxed photos that show your family's connectedness and love for one another.